And, behold, they brought to him a man sick of the palsy, lying on a bed: and Jesus seeing their faith said unto the sick of the palsy; Son, be of good cheer; thy sins be forgiven thee. And, behold, certain of the scribes said within themselves, This man blasphemeth. And Jesus knowing their thoughts said, Wherefore think ye evil in your hearts? For whether is easier, to say, Thy sins be forgiven thee; or to say, Arise, and walk? But that ye may know that the Son of man hath power on earth to forgive sins, (then saith he to the sick of the palsy,) Arise, take up thy bed, and go unto thine house. And he arose, and departed to his house. But when the multitudes saw it, they marvelled, and glorified God, which had given such power unto men. And as Jesus passed forth from thence, he saw a man, named Matthew, sitting at the receipt of custom: and he saith unto him, Follow me. And he arose, and followed him. But go ye and learn what that meaneth, I will have mercy, and not sacrifice: for I am not come to call the righteous, but sinners to repentance.
From parts of Matthew chapter 9
---
Whatever Happened to the Twelve Apostles?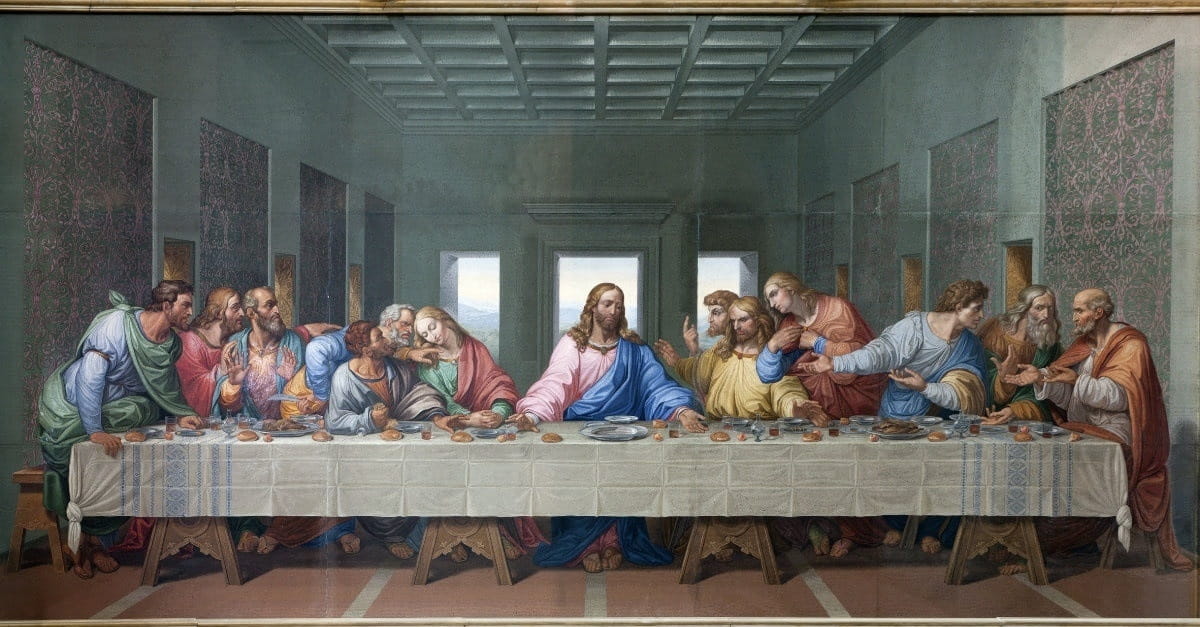 They were not the kind of group you might have expected Jesus to send forth on his mission to reach the world. There was nothing special or spectacular about them. The twelve apostles were just ordinary working men. But Jesus formed them into the backbone of the church and gave them the most extraordinary task imaginable: calling the entire world, including the mightiest empire ever known, to repentance and faith in the risen Christ. You can be sure that any educated, first-century Roman citizen would have laughed at any prediction that within three centuries the Christian faith would be the official faith of the empire.
Many wonder how the 12 apostles died, but The New Testament tells of the fate of only two of the apostles: Judas, who betrayed Jesus and then went out and hanged himself, and James the son of Zebedee, who was executed by Herod about 44 AD (Acts 12:2). Read how each of the apostles spread out to minister and evangelize and how many of the apostles died for their faith.
How Did the Apostles Die?
Reports and legends abound and they are not always reliable, but it is safe to say that the apostles went far and wide as heralds of the message of the risen Christ. An early legend says they cast lots and divided up the world to determine who would go where, so all could hear about Jesus. They suffered greatly for their faith and in most cases met violent deaths on account of their bold witness.
Peter and Paul
Both martyred in Rome about 66 AD, during the persecution under Emperor Nero. Paul was beheaded. Peter was crucified, upside down at his request, since he did not feel he was worthy to die in the same manner as his Lord.
Andrew
went to the "land of the man-eaters," in what is now the Soviet Union. Christians there claim him as the first to bring the gospel to their land. He also preached in Asia Minor, modern-day Turkey, and in Greece, where he is said to have been crucified.
Thomas
was probably most active in the area east of Syria. Tradition has him preaching as far east as India, where the ancient Marthoma Christians revere him as their founder. They claim that he died there when pierced through with the spears of four soldiers.
Philip
possibly had a powerful ministry in Carthage in North Africa and then in Asia Minor, where he converted the wife of a Roman proconsul. In retaliation the proconsul had Philip arrested and cruelly put to death.
Matthew
the tax collector and writer of a Gospel, ministered in Persia and Ethiopia. Some of the oldest reports say he was not martyred, while others say he was stabbed to death in Ethiopia.
Bartholomew
had widespread missionary travels attributed to him by tradition: to India with Thomas, back to Armenia, and also to Ethiopia and Southern Arabia. There are various accounts of how he met his death as a martyr for the gospel.
James
the son of Alpheus, is one of at least three James referred to in the New Testament. There is some confusion as to which is which, but this James is reckoned to have ministered in Syria. The Jewish historian Josephus reported that he was stoned and then clubbed to death.
Simon the Zealot
so the story goes, ministered in Persia and was killed after refusing to sacrifice to the sun god.
Matthais
was the apostle chosen to replace Judas. Tradition sends him to Syria with Andrew and to death by burning.
John
is the only one of the company generally thought to have died a natural death from old age. He was the leader of the church in the Ephesus area and is said to have taken care of Mary the mother of Jesus in his home. During Domitian's persecution in the middle 90's, he was exiled to the island of Patmos. There he is credited with writing the last book of the New Testament–the Revelation. An early Latin tradition has him escaping unhurt after being cast into boiling oil at Rome.
For Pete's sake
The names of Jesus' apostles have become the most common names for males in the Western world. How many do you know named John, Pete, Tom, Andy, Jim, Bart, or Phil?
At least four of the apostles were fishermen. Can this be part of the reason that one of the earliest and most prominent Christian symbols was the fish? The Greek word for fish, ichthus, formed an acrostic: Iesous Christos Theou Uios Soter, which means "Jesus Christ, Son of God, Savior."
After the death of the apostles, we do not find great missionary figures of the stature of Paul. Yet the faith continued to spread like wildfire — even though Christianity was declared an illegal religion.
No professional clergy
None of the apostles were called from the priesthood or the "professional clergy" of Jesus' day.
As we shared "Are you called?" I will in all humiliation point out a strident fact; one that is so undeniably obvious that it speaks for itself! Who wrote a significant portion of the New Testament? Paul. What did he do to believers before his experience? First, many may say "that is not what His name was." Agreed! Abram was changed to Abram and many more examples, but in placing this to rest…Jesus called him "Saul, Saul" in "the Hebrew tongue" in the book of Acts, when he had the vision which led to his conversion on the Road to Damascus. Later, in a vision to Ananias of Damascus, "The Lord" referred to him as "Saul, of Tarsus". When Ananias came to restore his sight, he called him "Brother Saul".
We are known! Amazingly, we are known before we are born. We are known at conception and led if we listen. To what? Big question!
Listening is one of the easiest things you'll ever do, and one of the hardest.
In a sense, listening is easy — or hearing is easy. It doesn't demand the initiative and energy required in speaking. That's why "faith comes from hearing, and hearing through the word of Christ" (Romans 10:17). The point is that hearing is easy, and faith is not an expression of our activity, but our receiving the activity of another. It is "hearing with faith" (Galatians 3:2, 5) that accents the achievements of Christ and thus is the channel of grace that starts and sustains the Christian life.
But despite this ease — or perhaps precisely because of it — we often fight against it. In our sin, we'd rather trust in ourselves than another, amass our own righteousness than receive another's, speak our thoughts than listen to someone else. True, sustained, active listening is a great act of faith, and a great means of grace, both for ourselves and for others in the fellowship.
Lessons in Good Listening
The charter text for Christian listening might be James 1:19: "Let every person be quick to hear, slow to speak, slow to anger." It's simple enough in principle, and nearly impossible to live. Too often we are slow to hear, quick to speak, and quick to anger. So, learning to listen well won't happen overnight. It requires discipline, effort, and intentionality. You get better with time, they say. Becoming a better listener hangs not on one big resolve to do better in a single conversation, but on developing a pattern of little resolves to focus in on particular people in specific moments.
Freshly persuaded this is a needed area of growth in my life — and possibly yours as well — here are six lessons in good listening. We take our cues from what may be the most important three paragraphs on listening outside the Bible, the section on "the ministry of listening" in Dietrich Bonhoeffer's Life Together, as well as Janet Dunn's classic Discipleship Journal article, "How to Become a Good Listener."
1. Good listening requires patience.
Here Bonhoeffer gives us something to avoid: "a kind of listening with half an ear that presumes already to know what the other person has to say." This, he says, "is an impatient, inattentive listening, that . . . is only waiting for a chance to speak." Perhaps we think we know where the speaker is going, and so already begin formulating our response. Or we were in the middle of something when someone started talking to us, or have another commitment approaching, and we wish they were done already.
Or maybe we're half-eared because our attention is divided, by our external surroundings or our internal rebounding to self. As Dunn laments, "Unfortunately, many of us are too preoccupied with ourselves when we listen. Instead of concentrating on what is being said, we are busy either deciding what to say in response or mentally rejecting the other person's point of view."
"Poor listening diminishes another person, while good listening invites them to exist and matter."TweetShare on Facebook
Positively, then, good listening requires concentration and means we're in with both ears, and that we hear the other person out till they're done speaking. Rarely will the speaker begin with what's most important, and deepest. We need to hear the whole train of thought, all the way to the caboose, before starting across the tracks.
Good listening silences the smartphone and doesn't stop the story, but is attentive and patient. Externally relaxed and internally active. It takes energy to block out the distractions that keep bombarding us, and the peripheral things that keep streaming into our consciousness, and the many good possibilities we can spin out for interrupting. When we are people quick to speak, it takes Spirit-powered patience to not only be quick to hear, but to keep on hearing.
2. Good listening is an act of love.
Half-eared listening, says Bonheoffer, "despises the brother and is only waiting for a chance to speak and thus get rid of the other person." Poor listening rejects; good listening embraces. Poor listening diminishes the other person, while good listening invites them to exist, and to matter. Bonhoeffer writes, "Just as love to God begins with listening to his Word, so the beginning of love for the brethren is learning to listen to them."
Good listening goes hand in hand with the mind-set of Christ (Philippians 2:5). It flows from a humble heart that counts others more significant than ourselves (Philippians 2:3). It looks not only to its own interests, but also the interests of others (Philippians 2:4). It is patient and kind (1 Corinthians 13:4).
3. Good listening asks perceptive questions.
This counsel is writ large in the Proverbs. It is the fool who "takes no pleasure in understanding, but only in expressing his opinion" (Proverbs 18:2), and thus "gives an answer before he hears" (Proverbs 18:13). "The purpose in a man's heart is like deep water," says Proverbs 20:5, "but a man of understanding will draw it out."
Good listening asks perceptive, open-ended questions that don't tee up yes-no answers, but gently peel the onion and probe beneath the surface. It watches carefully for nonverbal communication, but doesn't interrogate and pry into details the speaker doesn't want to share, but meekly draws them out and helps point the speaker to fresh perspectives through careful, but genuine, questions.
4. Good listening is ministry.
According to Bonhoeffer, there are many times when "listening can be a greater service than speaking." God wants more of the Christian than just our good listening, but not less. There will be days when the most important ministry we do is square our shoulders to some hurting person, uncross our arms, lean forward, make eye contact, and hear their pain all the way to the bottom. Says Dunn,
good listening often defuses the emotions that are a part of the problem being discussed. Sometimes releasing these emotions is all that is needed to solve the problem. The speaker may neither want nor expect us to say anything in response.
One of Dunn's counsels for cultivating good listening is: "put more emphasis on affirmation than on answers. . . . [M]any times God simply wants to use me as a channel of his affirming love as I listen with compassion and understanding." Echoes Bonhoeffer, "Often a person can be helped merely by having someone who will listen to him seriously." At times what our neighbor needs most is for someone else to know.
5. Good listening prepares us to speak well.
"The best ministry you might do today is to listen to someone's pain all the way to the bottom."TweetShare on Facebook
Sometimes good listening only listens, and ministers best by keeping quiet, but typically good listening readies us to minister words of grace to precisely the place where the other is in need. As Bonhoeffer writes, "We should listen with the ears of God that we may speak the Word of God."
While the fool "gives an answer before he hears" (Proverbs 18:13), the wise person tries to resist defensiveness, and to listen from a nonjudgmental stance, training himself not to formulate opinions or responses until the full update is on the table and the whole story has been heard.
6. Good listening reflects our relationship with God.
Our inability to listen well to others may be symptomatic of a chatty spirit that is droning out the voice of God. Bonhoeffer warns,
He who can no longer listen to his brother will soon be no longer listening to God either; he will be doing nothing but prattle in the presence of God too. This is the beginning of the death of the spiritual life. . . . Anyone who thinks that his time is too valuable to spend keeping quiet will eventually have no time for God and his brother, but only for himself and for his own follies.
Good listening is a great means of grace in the dynamic of true Christian fellowship. Not only is it a channel through which God continues to pour his grace into our lives, but it's also his way of using us as his means of grace in the lives of others. It may be one of the hardest things we learn to do, but we will find it worth every ounce of effort.